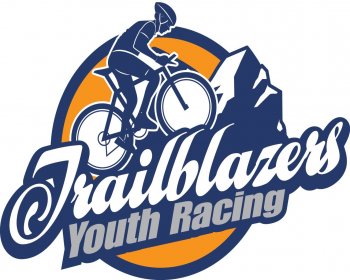 Description

The Flexxaire Trailblazers Youth Racing program was developed in early 2013 as a means of encouraging youth of all ages and abilities to try competitive mountain biking. The aim of the program is to make mountain bike racing fully accessible to youth across the Province of Alberta.
In early 2013, youth development was targeted as one of the ABA's most important Strategic Objectives in the next five years and beyond. Since youth participation at Alberta Cup Provincial Series races has generally been very low, it was identified that the youth needed a series of their own focused on fun and inclusivity. This led to the development of the Trailblazers Youth Racing program. The proposed series identifies several key principles that will be the focal point for attracting new riders to the sport. They are:

FUN. keeping the experience positive so youth continue to come back
Accessibility. taking down every possible barrier to entry for youth of all ages and abilities
Freedom. giving youth the choice to choose a race that suits their specific abilities
Trailblazers Youth Racing acknowledges the fact that regardless of age or gender, each individual child develops at a different rate. It's for this reason that this race series will give youth the choice – at each and every event – to race the event that matches their own specific comfort levels. Trailblazers will not assign participants to specific race categories based on their age or gender; rather give them the freedom to choose their race. Participants will have the choice to race one of four separate race-course offerings of varying technical difficulties suited to their individual skill levels.

Race organizers are encouraged to offer ancillary events on top of racing such as team relays, skills clinics, fun games, guest speakers and theme nights. This re-enforces the overall goal of the program to keep racing fun and make sure that participants associate a positive memory with the program.
Trailblazers Youth Racing will have a regional focus. The 2013 series will pilot in the Capital region of Edmonton & surrounding municipalities, and Kananaskis Region stretching from Canmore as far as Calgary. The ultimate goal is to see growth of the series across every major region in Alberta.

Race Categories:

Little Rippers
The "Little Ripper" category encompasses the youngest first time mountain bike racers. Recommended age for Little Rippers is 8 years-old and under. The Little Rippers Race will have a primary focus on fun, offering very few technical sections. Boys and girls will race together in this category. The race will be led and followed by experienced racers.

Following the Little Rippers race, participants will be encouraged to observe the higher-level races.
Course:
- Small loop (several laps optional)
- Elevation: 85% flat. Small gradual climbs & descents
- Majority doubletrack with little-to-no singletrack
- Optimal winning time: 20 minutes or less

Gnarly
The "Gnarly" category is offered for just that, beginners. Riders in this category will be first-time racers from all age groups and graduates from the "Little Rippers" race category. The emphasis of this race course will be fun, with mild technical sections to challenge the riders' abilities and introduce them to mountain bike racing. The recommended age group for this category is 9 to 12.

Course:
- Single loop
- Elevation: One or two gradual climbs/descents. No more than one steep climb and/or descent.
- Equal ratio of singletrack and doubletrack
- Optimal winning time: 25 minutes or less
Geared
The "Geared" category is offered for riders who have tried a youth series mountain bike race in the past and are looking for a new challenge. The emphasis of this race will be fun, with increased technical skills development. Riders in the Geared category will primarily be graduates from the Gnarly category and older first-time racers. The recommended age group for this category is 11 to 14.

Course:
- Single loop
- Elevation: Primarily flat with several gradual climbs/descents. No more than two steep climbs/descents
- Slightly more singletrack than double track (roughly 65% singletrack)
- Optimal winning time: 30 minutes or less

Dialed
The "Dialed" category is offered for riders looking for the biggest challenge on race-day. Riders in this category will be graduates of the Geared category, or advanced first time racers. Technical skills will be put to the test in this category offering a mix of difficult climbs/descents and technical singletrack sections. The recommended age group for this race category is ages 13 to 16.

Course:
- Single loop
- Elevation: Mostly varying elevation with many gradual climbs/descents. Two or more steep climbs/descents
- Up to three-quarters of the race course will be singletrack
- Optimal winning time: 40 minutes or less

SUMMARY

RACE CATEGORY

RECOMMENDED AGE


OPTIMAL WINNING TIME


DIFFICULTY


Little Rippers


U7 to U9
Ages 8 and under


20min or less

Beginner
(Young Child)

Gnarly

U11 to U13
Ages 9 to 12


25min or less

Beginner

Geared


U13 (Advanced) to U15
Ages 11 to 14

30min or less

Intermediate

Dialed


U15 (Advanced) to U17
Ages 13 to 16


40min or less

Advanced

Membership Guidelines

Trailblazers Youth Racing events will be considered "Club Racing" Events under ABA Sanction Guidelines. Events will be organized in a manner very similar to midweek-style racing with no Commissaires assigned, no upgrade/provincial cup points assigned, and no UCI racing license required.

All participants must obtain at minimum an Alberta Bicycle Association General Membership to compete. First time riders who do not possess a valid ABA membership may be issued a single event license on-site free of charge; all subsequent events will require the purchase of an ABA U17 General Membership. U17 General Memberships are offered at a discounted rate of $30 per person. To register online for a General Membership, click here.


Trailblazers In The News



<