The Alberta Provincial Team is off to a strong start at the 2013 Edition of Cycling Canada's Track National Championships in Dieppe, New Brunswick. Headlined by Olympian and World Champion Tara Whitten of Edmonton, the team posted very strong results to round off day one of competition.

Coach Cameron Jennings adds:
"The Alberta Provincial team and other Alberta track cyclists are performing well. Competition started yesterday and the team got of to a nice start. Evan and Mason Burtnik teamed up with John Willcox from BC to take bronze in the cadet team pursuit and the Elite Women team pursuit team of Tara Whitten, Allison Beveridge, Kirsty Lay, Kinley Gibson and Meika Ellis (alternate) qualified first and went on to win gold in the final over BC."
"Promising results were also secured by Lucas Adomonis with 5th in the junior me sprint at his first National champs and Eric Johnstone picked up bronze in the junior men sprint."

"Meika Ellis rode to 4th in the elite women's sprint competition and Andrew Cullingham rode well to finish 7th in the elite men sprint competition. Both Meika and Andrew are at their first national champs, and although not a part of the provincial team, deserve a mention for their performances."
"Racing was postponed today due to the weather, but we are all set to go again tomorrow with the Omnium competition for all categories. With a couple of medals already, spirits are high and we are all looking forward to keeping the ball rolling and performing well over the remainder of the competition."

Best of luck to the team as competition resumes tomorrow!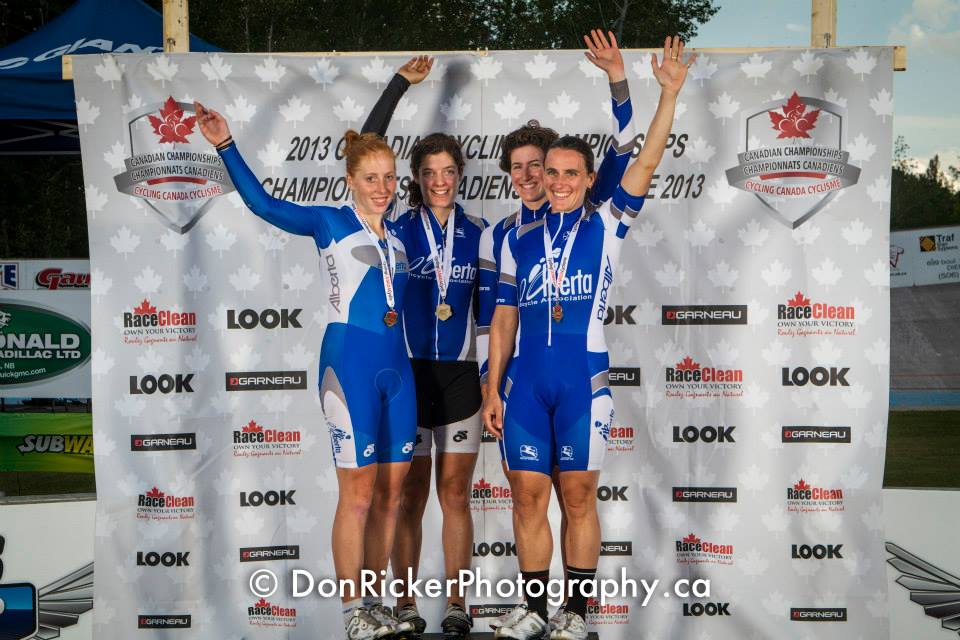 Elite Women Team Pursuit squad (Kirsty Lay absent). Photo credit: Don Ricker Photography