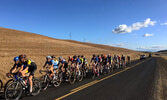 Sport Director Course
Cycling Canada is pleased to announce that we will be holding the Cycling Canada Sport Director Course during the Canadian Road Championships in Ottawa / Gatineau, on Monday June 27th.
This bilingual workshop is compulsory for the domestic UCI Trade Teams and Cycling Canada Trade Teams (Road) but also open to coaches and Team Managers at the provincial and club level. Following the success of the pilot course delivered last year, we have decided to make this training an annual course. The workshop will be presented by Luc Arseneau, Cycling Canada's Men's Road Development Coach in collaboration with other guest speakers.
Sport Director Course
When: Monday June 27th, 12:45pm
Location: Carleton University, Ottawa (room TBC)
Cost: $100
Guest Speakers:
· Kevin Field Cycling Canada Men's Head Coach
· Anne Cobban Elite National Road Commissaire, National MTB, Track, CX Commissaire
· Guy Napert-Frenette Cycling Canada Manager Communications
Topics Include:
· Team registration
· Licenses
· Sporting control and race registration
· Anti-doping
· Team manager / leadership
· Athlete performance
· Media and communication
· Sponsorship and marketing
All participants must complete the Online Caravan Driver Training before the DS course. The registration fee includes the caravan training for those who have not completed it.
Please confirm your interest by June 1st, 2016. You can fill in the registration form here. Participants will be admitted on a first come first serve basis. This training counts as 3 NCCP Professional Development points for certified coaches