As a part of another exciting season in 2014, the Alberta Summer Games has returned. With this year's events taking place in Airdrie, Alberta there will be no shortage of cycling excitement for fans and athletes alike. This year's Games will put Alberta's best 12 to 17 year old Mountain Bike & BMX athletes to the test on two action packed venues in the City of Airdrie.
As the 2014 Games approach, the Alberta Bicycle Association is urgently seeking XC Mountain Bike Zone Representatives and Coaches for the following Zones:
Zone 1 - Includes Lethbridge, Medicine Hat and surrounding areas
Zone 3 - Calgary
Zone 4 - Includes Red Deer and surrounding areas
Zone 7 - Includes Cold Lake, Fort McMurray and surrounding areas
Zone 8 - Includes Grande Prairie, Slave Lake, and surrounding areas
See below for a Zone Map which outlines the geographical locations for each of the above specified zones.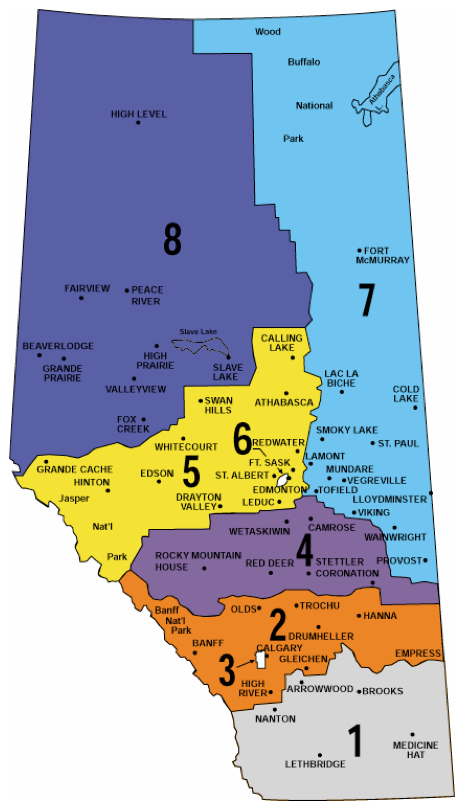 Primary roles of the Zone Representative include:
Organizing a Zone Qualifier Race. Funding to assist with the race will be provided. This can be done very easily in conjunction with a Trailblazers race in your area. Multiple Zones may combine Zone Qualifier races into one event
Attending Zone informational meetings within your zone
Assembling a Zone Roster (5 riders per zone + possible fill-spots)
Attending the Games in Airdrie (although someone can go in your place)
Liaising with the ABA on all Zone-related issues – i.e. athlete registration, Zone qualifier Dates, etc.
Acting as the lead contact for your zone regarding questions about qualifiers, team registration, etc.
Working alongside the Zone Coach to provide pre-games training opportunities for the selected team
Zone Representatives do not need any specific qualifications or credentials to apply! All we ask is that you share a passion for the sport of Mountain Biking and a desire to help grow the sport for youth in your Zone. The ABA works closely with all Zone Representatives in the months leading to the Games to ensure a positive experience for everyone involved.
If you are interested in being a Zone Representative or Coach for the 2014 Alberta Summer Games in Airdrie, please contact Josh Peacock at josh@albertabicycle.ab.ca or (877)646-2453.
For more information regarding the Alberta Summer Games, visit www.albertagames.com. For the full Mountain Bike Sport Information Technical Package, click here.